Prague is cold. Super, super cold. So while I'm trying to regain circulation in my fingers I thought'd I'd take a moment to really quickly tell you about some of the street food we've had in Prague and give you a super fast review on Prague. First, Prague is old. Wait, you probably knew that already. But yep, it's super old and beautiful and bitterly cold! Like, freezing ice chunks rain, cold.
The Prague Castle isn't really a castle, it's a castle complex, so from far away it looks like one big castle but really it's a group of old palaces and churches. Check it out, it's absolutely amazing. The stained glass in St. Vitus Cathedral puts the work in Notre Dame to shame. The astronomical clock is an amazing sight but there are no regulations on how many people are allowed up so it's a crammed, crowded nightmare. So enjoy the view from one of the less crowded spots like the the Powder Gate or even the walls on the walk up to the Castle. Just as amazing but you won't feel like you're going to get pushed off the ledge!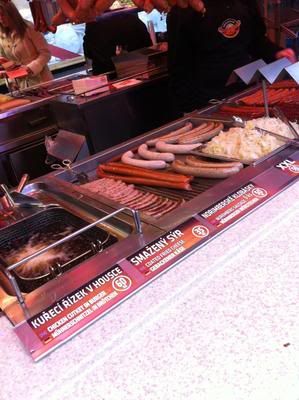 On the not so fantastic side  Prague is dirty (as in litter and such) and you have to pay to use the bathroom every where you go (5 to 25 crowns so between a quarter and 1.25 US). Oh, and there is more alcohol and booze here than you could ever begin to fathom. Seriously, the drink list at most restaurants is longer than the menu and the mini marts and souvenir shops sell hard liquor from absinthe to vodka for about the price of a soda. And the Czechs like their liquor. We've seen plenty of folks drinking straight from the bottle in public squares and metros. It must be how they stay warm!
And then there is the street food. Yum. It's the kind of delicious fried and fatty food that you'd enjoy after a few beers so I suppose it's a good match for the city. The first thing we had to try was a smažený sýr, or a fried cheese sandwich. On his show, No Reservations,
Anthony Bourdain
ate this in Prague. It's like an oversized mozzarella stick on a bun and then you add mayonnaise or ketchup. On an aside, I'm absolutely terrified of mayonnaise, and no, that isn't strange at all so I skipped the mayo and only had ketchup. Anthony Bourdian said it was "magnificent" and I can only half agree. It WOULD have been magnificent if they hadn't spoiled that giant piece of fried cheese with a big, fluffy bun. The cheese got a little lost in all of that bread. To remedy this on my second go at the fried cheese sandwich (yes, I've had two, what of it?) I tossed the top bun and you could taste the cheese much better.
Beside the usual street food offerings, a variety of other food carts were offering their wares because of the Christmas Market (which was sadly more like a flea market selling most of the same items you could find in the souvenir shops). These included freshly fried potato chips (yum), honey wine or mead (eh, so so), giant chicken kabobs (J enjoyed these), plum pies, a variety of sausages, big hunks of ham roasting away, langoše (deep fried dough with pizza like toppings- very yummy), and the famous Trdlo or trdelník.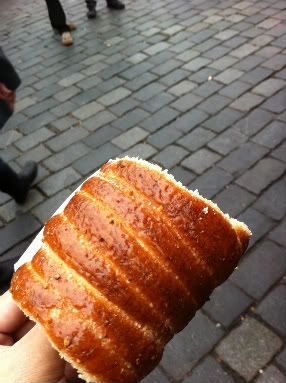 J and I can't get enough of these doughy treats. We've been eating them at least once a day (hey, we're walking like 15 miles a day and not taking the metro so we can eat those extra calories!). Trdelnik is a soft, sweet, yeasty bread dough that is wrapped around a a cylinder that looks like a giant rolling pin. These cylinders are placed over hot coals (like an open barbecue pit) and slowly rotated until they are golden brown on the outside. Some stands dip them in sugar afterwards, and some roll them in slivered nuts. I prefer them with neither but warm and fresh off the stick.
You can bet J and I have already been doing research on how to make these tasty treats at home! And of course, once we've given it a go, we'll share the how to with you!
Happy Eating! ~Nikki
PS for more info about the Czech Christmas Markets check out this post on
Czech Please
, a blog dedicated to the food scene in Prague.